Empow[HER] – Economic Development Summit
September 27 @ 1:00 pm

-

5:30 pm
This event is laser-focused on increasing the financial readiness of women owners during all phases of their business.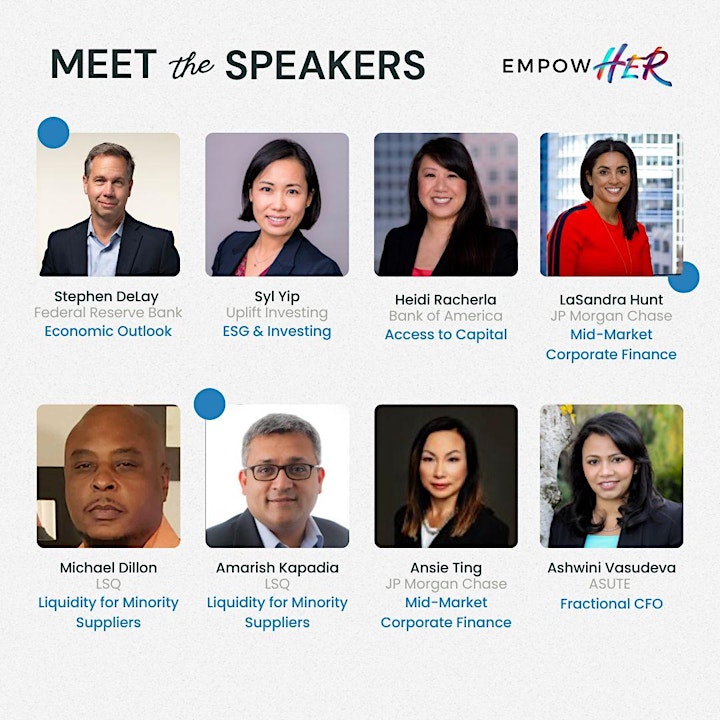 Empow 2023: Ignite Your Economic Power!
Get ready for an unparalleled journey to economic empowerment. Empow is not just another free virtual event. It's a revolution, an uprising of women ready to take charge of their economic destiny.
The Objective
Our mission with Empow is to foster an environment where women can thrive economically. This event is designed to empower, inspire, and equip women with the necessary tools and knowledge to navigate the financial landscape and build lasting wealth.
What Makes Empow Unique?
What sets Empow apart is our unwavering commitment to deliver actionable insights. We're bringing together an impressive lineup of industry leaders, financial gurus, and trailblazing entrepreneurs. These experts will share their wisdom, strategies, and real-world experiences to help you level up your financial game.
Key Takeaways
At Empow, you can expect to:
Gain practical, hands-on knowledge on wealth creation and management.
Learn about investment opportunities and how to leverage them.
Understand how to navigate and overcome financial challenges.
Network with like-minded women and industry experts.
Get inspired by powerful success stories.
Impact on Your Business or Career
Empow promises to be a game-changer. The knowledge you'll acquire will help you make smarter financial decisions, grow your wealth, and ultimately achieve financial independence. Whether you're a budding entrepreneur, a seasoned professional, or just starting your career, Empow has something for everyone.
Call to Action
So, are you ready to take control of your economic power? Don't miss out on this opportunity to transform your financial future. Register now for Empow 2023 and join a community of empowered women ready to change the world.
Your economic empowerment journey starts here. See you at Empow!
Register today!